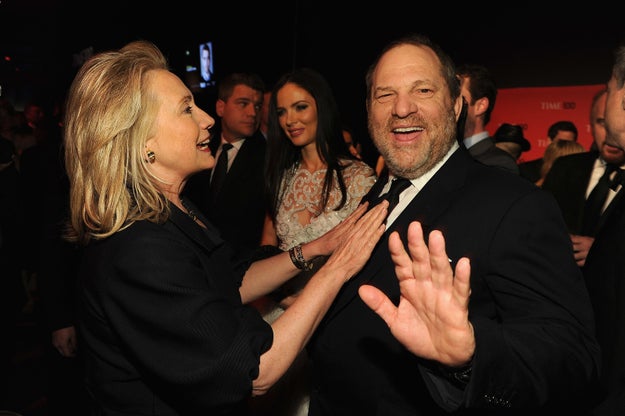 Clinton and Weinstein in 2012.
Larry Busacca / Getty Images
Hillary Clinton said Tuesday she was "shocked and appalled" by allegations that movie producer Harvey Weinstein sexually assaulted numerous women — five days after they were made public by the New York Times.
Former President Obama followed up later in the day, issuing a joint statement with his wife that said they were "disgusted" with the allegations.
But neither Clinton nor Obama mentioned the money raised by Weinstein, a longtime Democratic campaign donor and fundraiser, to support their respective presidential campaigns.
Last Thursday, a New York Times detailed multiple allegations of sexual harassment against Weinstein. On Sunday, he was fired from the company he cofounded, the Weinstein Company.
By Tuesday afternoon, new investigations in the New Yorker and New York Times detailed additional allegations of sex assault and harassment, including forced oral and vaginal intercourse.
Not long after, Clinton's statement was released in a tweet from her press secretary Nick Merrill.
"I was shocked and appalled by the revelations about Harvey Weinstein," Clinton said. "The behavior described by women coming forward cannot be tolerated. Their courage and the support of others is critical in helping to stop this kind of behavior."
The Obamas released their statement later in the afternoon, praising the women who have come forward "to tell these painful stories."
But like Clinton's statement, they made no mention of the political donations made by the Weinstein over the years.
Democrats in the US Senate rushed last week to condemn the film executive and donate any contributions received from the movie executive to charities.
Bill and Hillary Clinton, who have accepted thousands of dollars from Weinstein since at least the 1990s — including more than $35,000 in last year's presidential campaign — have made no such commitment, nor has Obama, who also benefited from Weinstein's fundraising and donations.
Asked about donating the 2016 campaign contributions, Clinton's vice presidential running mate, Virginia Sen. Tim Kaine, told CNN on Tuesday, "The campaign is over."
LINK: Many Democrats Are Now Donating Harvey Weinstein's Campaign Contributions To Charity
Comments
comments